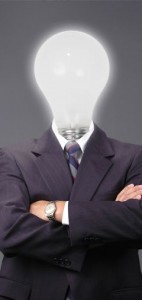 The legal market is becoming more competitive with law firms needing to differentiate themselves and yet innovation has only started to happen in pricing, it is not yet seen as a strategic priority in law firms in areas such as client service.  Are innovation and law firms an oxymoron?
Here are 18 reasons why innovation may not happen easily in the law:
1) No-one is responsible for it
2) No measures – 'what gets measured gets done'
3) Not seen as a priority – the significance of differentiation in the new legal market is not fully understood
4) Narrowing down reductive thinking training of lawyers is the opposite of expansive thinking outwards that creates innovation
5) Belief that current legal market will revert back to what it was pre credit crunch
6) 'Me too' copying risk averse approach of firms; first = risky not better
7) Critical picking holes nature of lawyers' intelligent minds kills embryonic ideas
8) Black and white natural thinking of lawyers when often innovation = subtle shades of grey
9) Client centricity still developing due to downturn – best innovations often solve a client problem
10) Hierarchical bureaucratic structure of the law firm model stifles innovation, especially from younger lawyers
11) Narrow linear deep specialism of lawyers is counter to lateral insights needed cross markets for innovation
12) Critical nature of lawyers reduces acknowledgement of ideas and the 'greenhouse' warming needed to nurture them and encourage proactivity
13) Short term thinking focus of law firms when innovation can be longer term
14) No structure in place to foster it
15) Innovation needs time and space to germinate – fee earning focus takes precedence
16) Traditional profession – innovation and newness is the opposite of tradition
17) Partner collaborative decision making slows down innovation when it needs to be increasingly nimble
18) Individualistic lawyer mind-set and attachment to being right – innovation is often a disparate collection of different ideas formed together
Combining all these factors creates many barriers to innovation happening in law firms.
What is your view? Are innovation and law firms an oxymoron? How can this be changed?